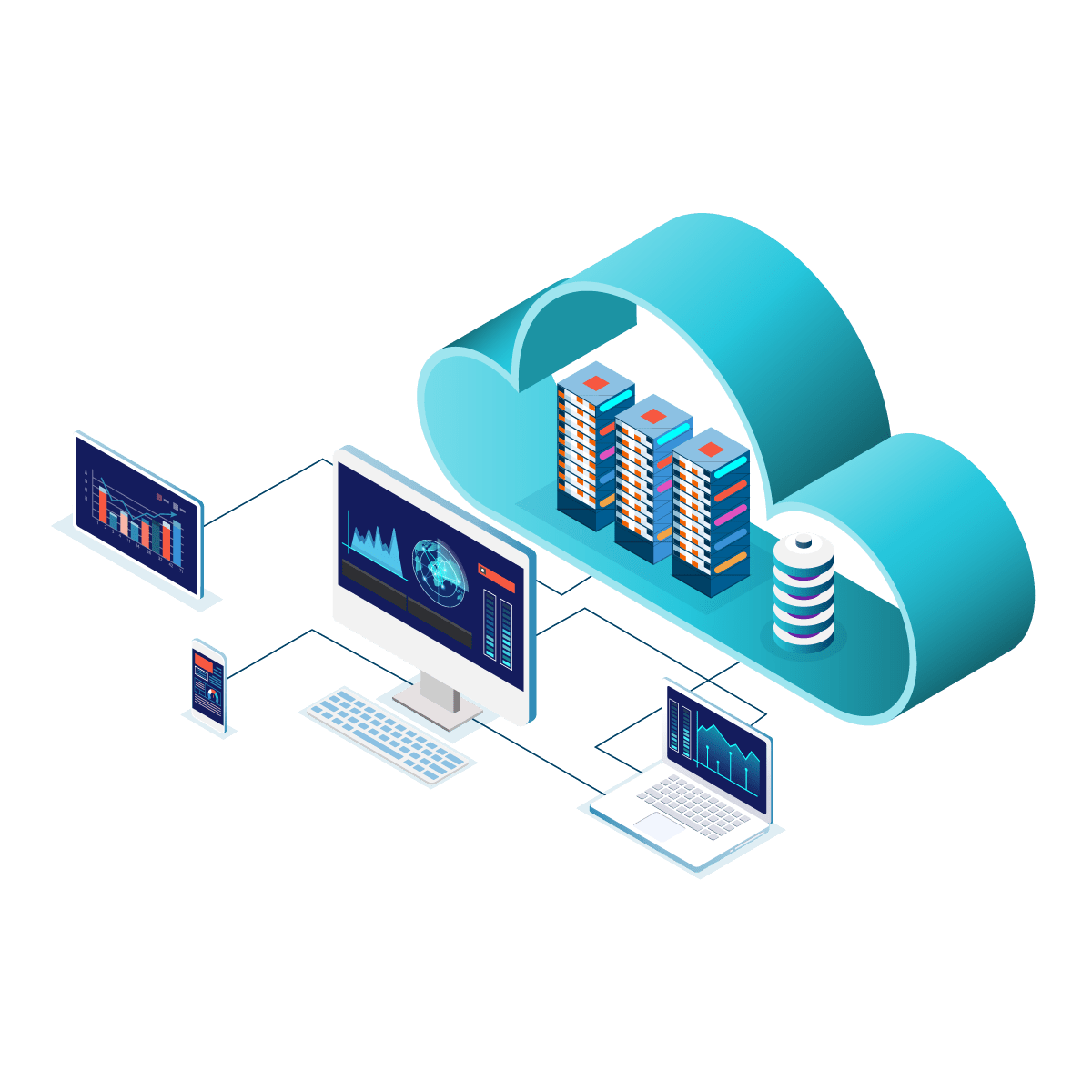 Cloud services are infrastructure, platforms, or software that are hosted by third-party providers and made available to users through the internet. 
Cloud services facilitate the flow of user data from front-end clients (e.g. users' servers, tablets, desktops, laptops—anything on the users' ends), through the internet, to the provider's systems, and back. Users can access cloud services with nothing more than a computer, operating system, and internet connectivity or virtual private network (VPN).
There are several different types of cloud services, but Helptek focuses on offering Software-as-a-Service Cloud Services (SaaS). SaaS is a form of cloud computing that delivers a cloud application—and all its underlying IT infrastructure and platforms—to users. Some examples of these services include Microsoft 365 Licensing & Deployment, Private Cloud Servers, & Web Based Password Management, Managed WordPress Hosting, and Network-Wide Content Filtering.

M365 Licensing & Deployment
Microsoft 365 is cloud-based productivity, hosted by Microsoft. At its heart is Office itself—the familiar, rich Office applications customers use and love – now offered as a cloud service, so it's always up to date. But Microsoft 365 is also so much more. It's about bringing enterprise-grade services to organizations of all sizes, from online meetings to sharing documents to business-class email.
Business Class Email
Large, 50GB mailboxes that can send messages up to 25MB in size, with contacts, shared calendars and spam and malware protection that stays up to date. Built with Exchange email technology, the leading email solution for business around the world. Use your own custom domain for your email address, connect with Outlook for fully featured offline support, and access via the web through any modern browser. Available on your PC or Mac, as well as Windows Phone, iPhone, & Android.
Online Meetings
Hold scheduled or ad hoc online meetings for up to 250 participants, with screen sharing, audio & video, virtual whiteboards, polls and shared notes. Partners can participate through any browser.
Work from Anywhere
Wherever your people are, online or offline, they can get to—and work with—the most up-to-date versions of the files and tools they need to get things done. And they can do it on virtually any device.
Online Document Storage & File Sharing
1 TB of space in the cloud to store, backup and easily share files. Files are accessible from almost any device, also synchronized offline and available without an internet connection.
Think M365 would be a good fit for your organization?
M365 has a vary wide ranging application base and is a great fit for small businesses to large enterprise organizations. Let us help you streamline your business with M365.

Private Cloud Hosting
Not all organizations have the same needs which is why we offer an alternative to GSuite & M365. Nextcloud is a solution which makes maintaining compliance and data security easier. Its extensive auditing, monitoring, and file access control features as well as capabilities like End-to-end Encryption and Video Verification are unique in the industry. With over 200 apps for Nextcloud, more than for any other on-premises solution, you can add the integration and functional enhancements you need. Nextcloud provides a far simpler and more integrated user interface, resulting in less calls to support and improved productivity of your teams.
Hosted or On-Premise
Because Nextcloud is open source it allows us to offer the option to host your own cloud storage system on your existing servers or for Helptek to host it for you. If you already have existing server infrastructure you likely already have the capability to self-host which can save you on the cost of licensing, provide more flexibility, and give you total control of your own system. Don't have your own servers? No problem, we can offer to host it for you for a much lower cost than M365 or GSuite while still providing you the flexibility and control of your cloud storage system.
Three Practical Benefits to owning your Cloud
1. You control updates – No more walking in on Monday morning to an inbox full of support requests due to broken workflows after an update you did not know was coming.
2. You control the code – Add, modify or remove any functionality you want, at any time, or build custom integration in any platform you want, including in-house tech.
3. You run your cloud – You now have the opportunity to consolidate your data floating on all kinds of public clouds in one place.
Interested in owning your own cloud?
Password Management
Passwords are often the only thing standing between your data and everything else. This is one reason why it is important to use a unique strong password for each login you use. But if you're like us you can't remember 100+ different combinations of letters, numbers, and symbols. Many people will store their passwords in a note, spreadsheet, or other document to reference when they need to but these methods are not considered secure and often not very functional as a Password Manager. A Password Manager makes it possible to safely secure your unique passwords in one place while having them accessible from multiple devices and you only need to remember one master password.
What can you expect from a password manager?
Password managers generate strong passwords when you create a new account or when you have to change a password for an account. When you need to login at the start of the day or when you session times out your password manager will fill in your username and password for you whether its on your phone or computer.
Be Strong, Be Safe
A password manager will even go a step further to alert you when you're reusing a weak password, using a password thats been involved in a data breach, or a password you have used elsewhere.
Passwords can be shared
For the accounts you need to share with employees, friends or family a password enables you to share individual passwords either by sending a random, temporary link to view the account information or by assigning permissions to a user to have access to that account information.

Is it time to securely organize your passwords?